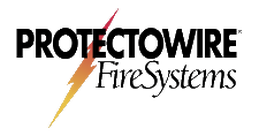 Unique Line-Type Heat Detection Systems
---
Protectowire Linear Heat Detection

Protectowire Digital Linear Heat Detector is the most widely used linear heat detector in the fire detection industry. It is a continuous heat detector capable of detecting heat anywhere along its length. The sensor cable is comprised of two steel conductors individually insulated with a proprietary heat sensitive polymer. The insulated conductors are twisted together to impose a spring pressure between them, then wrapped with a protective tape and finished with a protective outer jacket.

Detects at any point along its length providing uniform sensitivity.
Available in a wide range of operating temperatures and outer jackets.
Provides alarm point location with suitably configured control panels.
Simple design for easy troubleshooting and low maintenance costs.
Outer jackets resist corrosion, chemicals, dust, dirt, moisture, and temperature extremes.

Protectowire Optical Fibre Cable

The Protectowire FiberSystem 8000 is known throughout the world as one of the reliable and intelligent linear heat detection systems using state of the art fiber optic sensing technology.

The system consists of Type PFS Fiber Optic Sensor Cable and the PTS Controllers with related software. The PTS Series Controllers can be configured for various alarm criteria and can be connected to an approved fire alarm control panel using relay inputs and outputs. The system is specifically designed for high risk commercial and industrial hazards that demand high reliability and customized system features.

Unique zoning capabilities. A single length of sensor can contain up to 256 zones.
Multiple alarm initiating criteria by zone.
Programmable custom operating logic.
Capable of continuous temperature monitoring in real time.
Graphic display of temperature profile, fire size, and spread using computer interface.
LAN Interface (TCP/IP) enables remote access from multiple locations.

Protectowire Control Panel

A full line of fire alarm control panels compatible with our linear heat detector and other initiating devices. Graphic Annunciators for use with out full control panel line.

The SRP-4×4 is the #1 choice for companies as a multi-purpose fire alarm system designed for commercial and light industrial detection and extinguishing applications. The control panel provides four Class A or B (Style D or B) Initiating Circuits, one dedicated Class B (Style B) Supervisory Circuit, and four Class B (Style Y) Output Circuits. An optional Class A (Style Z) Output Module is available.

The FS2000 is a commercial and light industrial grade fire alarm control panel featuring individual control modules designed to meet specialized system requirements. It is constructed for use in commercial, institutional, and light industrial environments.

The 2600HD is heavy duty fire alarm control panel. It is configured to each customer's application requirements and is specifically designed for industrial hazards which demand high reliability and customized system features. Special capabilities, such as custom system operating logic, outdoor or hazardous installation environments, special input voltages, high power demand applications, or multiple extinguishing release circuit activation can all be provided to meet the most demanding operational requirements.

---
What Protectowire product are you interested in?
---